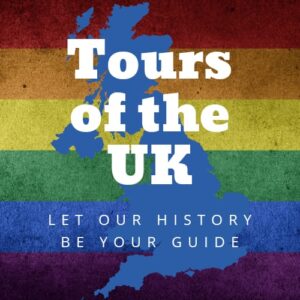 London, like any major city, has always been a centre for the LGBTQIA+ community. London's relationship with the LGBTQIA+ community has changed dramatically over the years, and while we have a tendency to think of a modern London which is welcoming to all, for a large portion of London's history being LGBTQIA+ in the capital was fraught with dangers of blackmail, violence, and arrest. The London of cottaging grounds, seedy bars, and the fear of prosecution for 'gross indecency' is long gone, but the legacy of LGBTQIA+ oppression still remains, as LGBTQIA+ figures are underrepresented in the capital's statues, blue plaques, and memorials. Pride in London, whatever its faults, is a beacon of hope for many LGBTQIA+ people who live and work in London. Pride's party atmosphere brings people from all backgrounds together and the awareness and viability that pride generates has helped move the equal rights movement forward. Many of the rights that LGBTQIA+ people enjoy today, including an equal age of consent, civil partnerships, and gay marriage can all be traced back to campaigns and cases found at pride.
Sadly this year Pride in London (like on a lot of UK cities) has been cancelled this year due to Covid19. Because of this we wanted to share with you some of our favourite LGBTQIA+ spots in London, all of which will hopefully be reopening soon; offering all members of the LGBTQIA+ community safe spaces to mix and mingle in a socially distanced manner. These suggestions are just a small glimpse into our favourite places, and sadly we couldn't list them all, as both Soho, and Vauxhall, are packed with amazing places to visit, party, and play. Missing from this list are the amazing clothes shops that litter Soho, such as Clone Zone, Prowler, and Regulation, all of which have amazingly friendly and supportive staff, as well as some of the more 'out-there' nightclubs that litter the 'naughtier', or more interesting parts, of London.
RVT aka The Royal Vauxhall Tavern
372 Kennington Lane, London SE11 5HY
Nearest Tube: Vauxhall
The RVT (or the Royal Vauxhall Tavern) is the oldest surviving gay venue south of the River Thames. Now a grade II listed building, one of only a few buildings that has been given historical protection thanks to its links to the LGBTQIA+ community, it is considered to be of national, and international importance to the LGBTQIA+ community. Famous for its performances by a range of both local and international artists, cabaret nights such as Duckie! (The RVT won the title of London's Best Cabaret venue in both 2018 and 2019!) its Drag shows, party nights that honour gay icons from George Michael to Kylie Minogue, to Ariana Grande, and its links to both the LGBTQIA+ 'alternative' and Kink/Fetish scene, The Royal Vauxhall Tavern is a must-visit venue for anyone who identifies as LGBTQIA+ and their allies. A favourite venue of LGBTQIA+ celebrities for years, it has seen performances by famous Drag Queens like Lilly Savage and Charlie Hides, and it is even rumoured that the lead singer of Queen, Freddie Mercury, smuggled Princess Diana into the RVT dressed as a "rather eccentrically dressed gay male model!".
One of our favourite nights at the RVT is Duckie! a messy, irreverent, belly laugh of a night out which has been a regular at the RVT for almost 25 years! Sadly postponed (we would hate to see it cancelled) until the end of the COVID19 pandemic, it has been a staple of the RVT's Saturday night schedule. With entry to Duckie! costing between £5 and £8 depending on what time you arrive, we have never failed to enjoy a night out at the Royal Vauxhall Tavern.
66 Marchmont Street, Bloomsbury, London, WC1N 1AB
Nearest Tube: Russell Square
We've mentioned Gay's the Word Bookshop in previous posts. Located 66 Marchmont Street in the Bloomsbury area of London, Gay's the Word is a must-visit for anyone who identifies as LGBTQIA+. Now the oldest surviving LGBTQIA+ bookshop in the UK, Gay's the Word was founded in 1979 and was one of the few places where you could buy LGBTQIA+ literature, at a time when it was not widely available. Home to numerous LGBTQIA+ groups including Lesbian and Gays Support the Miners (LGSM) who were made famous throughout the world thanks to the film 'Pride'. One of LGSM's co-founders, Mark Ashton (who sadly died of pneumonia in 1987 after contracting HIV/Aids), is commemorated with a blue plaque above the shop which is still home to the weekly Wednesday Evening Lesbian Discussion Group (Wednesday evenings between 8 pm – 9 pm) as well as the monthly Translondon Group (every 3rd Tuesday of the month at 7.30 pm).
A trip to Gay's the Word is always a special occasion, as while many of London's major bookstores now carry an LGBT+ section, this was not always the case. Unlike the bigger bookstores, the staff at Gay's the Word are always willing to chat, and offer some friendly advice. Gay's the Word also offers a much wider selection of books (and other paraphernalia that relate to LGBTQIA+ cases and issues including t-shirts for LGSM, badges etc) than most of the bookstores in London which have dedicated LGBT+ sections within their regular stores.
According to their Facebook page, Gay's the Word will reopen on 1st July with some amended opening times due to the COVID19 pandemic.
30 Old Compton St, Soho, W1D 4UR
Nearest Tube: Tottenham Court Road
G-A-Y Bar is one of the most well-known, popular, and notorious LGBTQIA+ venues in London. Open from midday, there isn't an LGBTQIA+ person we know who hasn't spent at least one very drunken night here. Often used to start a night out (thanks to the deals that G-A-Y offers to its sister sites G-A-Y Late, which is around the corner on 5 Goslett Yard, Soho, London WC2H 0EA and Heaven, which we will talk about a bit later) G-A-Y often has a mixed clientele of young and old. Split over several floors, which are not all open in the afternoon, or on quiet nights, the crowd at G-A-Y is usually quite diverse including students, tourists, and office workers, with a mainly male crowd on the upper levels and a mainly female crowd downstairs. Like many of London's LGBTQIA+ nightclubs G-A-Y Bar can get very busy and you will need to queue to get a drink, the longest we have waited was 30minutes – but this was on New Year's Eve! Like all of London's nightclubs G-A-Y Bar operates a search policy on entry and the door staff are normally pretty good if you feel uncomfortable being searched by a member of the same or opposite sex – just ask them and they are pretty accommodating. Again like all nightclubs in London, G-A-Y Bar also operates a zero-tolerance policy on drugs and people have, in the past, been refused entry for carrying licenced medication such as autoinjectors for allergies, pain medication etc – our advice is to leave it at home (if you can) as there is nothing worse than queuing to get into a nightclub or bar, only to be refused entry for something which you could have avoided! If you can't leave them at home try and grab a member of staff before you start to queue (better yet call them earlier in the day or drop them a message on social media!) and explain your situation to them. We also highly recommend that you make use of the cloakroom (found downstairs near one set of toilets) if you have any shopping or precious personal items with you; but be warned that the queue for this facility can get very long if G-A-Y Bar is busy.
While we highly recommend G-A-Y Bar, just so you can say that you have lived through the experience, we would advise that if you do not enjoy loud music or very busy bars that you visit earlier in the day. We quiet enjoy popping in on a Saturday afternoon just after the matinees in the nearby theatres have started when the volume (both of people and music) is lower and it is easier to find a seat and get served at the bar.
72 Albert Embankment, Vauxhall, London, SE1 7TP
Nearest Tube: Vauxhall
Founded in 2008 above an LGBTQIA+ pub called The Stag (hence the name) Above the Stage Theatre is now situated underneath one of the railway arches in Vauxhall. The only theatre in the UK producing, and programming, exclusively LGBTQIA+ theatre it is a popular spot with the London based LGBTQIA+ theatre community. We've seen numerous productions here that have ranged from the brilliantly funny, to the poignantly moving and we always end up drinking in the theatre bar until closing time! If we are honest the bar is a great place to hang out and drink if you happen to be in Vauxhall anyway!
Although it is currently closed due to the COVID19 pandemic the Above the Stag Theatre should re-open in November for their annual adult panto, which this year is Dick Whittington: A New Dick in Town, which follows on from their highly successful Pinocchio in 2019.
54 Old Compton Street, London W1D 4UD
Nearest Tube: Tottenham Court Road
The Admiral Duncan is one of the oldest gay bars in London and is named after the British Naval hero Admiral Adam Duncan who defeated the Dutch fleet at the Battle of Camperdown. Known throughout the United Kingdom for the Admiral Duncan terrorist attack, which was part of the 1999 London nail bombings (where the Neo-Nazi David Copeland placed three nail bombs in Brixton, Brick Lane and The Admiral Duncan over three consecutive weekends) where three people were killed, and seventy-nine people were injured. Today the pub is a popular place for all members of the LGBTQIA+ to come together and has a memorial chandelier and plaque to those who died and were injured during the 1999 bomb attack. Known for its friendly staff, cheap(ish) drinks, and Drag shows, The Admiral Duncan is certainly a favourite with many of our LGBTQIA+ guides who often pop in here after their tours.